Local Beer and Wine to Compete for the Big Mentorship Cup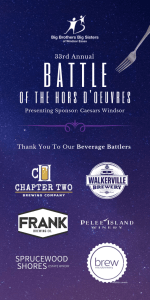 SPRUCEWOOD SHORES ESTATE WINERY – Today, Kieran McKenzie – Director of Development and Donor Relations for Big Brothers Big Sisters of Windsor Essex joined by Vicki Hedge Resource Development Coordinator along with some of our region's best local Beer and Wine Producers announced that the 33rd annual Battle of the Hors D'Oeuvres will feature a Beverage Battle.
On October 3rd, in the Augustus Ballroom at Caesars Windsor, local Beer and Wine makers will compete head to head for the Big Mentorship Cup.
McKenzie talked about the reasons for adding the Beverage Battle to an already popular and successful event: "For many years Battle of the Hors D'Oeuvres has been supported by incredible local beverage producers. This year they will join in the fun in a parallel Battle to their Food Battler counterparts and compete in their own Beverage Battle. The competition will be fierce as every one of the Beverage Battlers makes amazing products. Adding to the excitement and as we are officially in election season the winner will be democratically determined by straight vote by the attendees of the event. The first ever Beverage Battle winner will be up to the people."
The inaugural Battle of the Hors D'Oeuvres Beverage Battle features some incredible producers in our region they are:
Sprucewood Shores Estate Winery
Walkerville Brewery
 Brew Microbrewery
Chapter 2 Brewing Company
Frank Brewing Co.
Pelee Island Winery
Battle of the Hors D'Oeuvres is one of the signature culinary events of the Windsor Essex region. The Beverage Battle builds on the partnerships that have been built between the food and beverage industry and the Agency. "This year's event is shaping up to be another incredible opportunity for people in the community to experience some of the best food and beverage our region has to offer while at the same time making an investment in our future and our children by supporting Big Brothers Big Sisters of Windsor Essex." McKenzie added.
For tickets to this year's Battle of the Hors D'Oeuvres click on the link below: