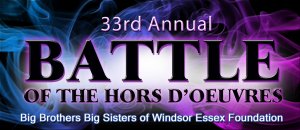 Big Brothers Big Sisters of Windsor Essex is excited to announce that one of our region's BIGGEST annual culinary events – BATTLE OF THE HORS D'OEUVRES – will 'go down' on October 3rd. The BIG event will once again take place in the Augustus Ballroom at Caesars Windsor.
Recently, our Director of Development and Donor Relations – Kieran McKenzie was at the Brew Microbrewery located 635 University Ave. E, joined by a group of amazing community partners for this announcement.
In attendance were event sponsors Waste Connections Canada represented by Joe Greco along along with Beth Ann Prince from the Windsor Family Credit Union. One of our Media Sponsors – YourTV represented by Marlene Corey was also in attendance as well as former and current Battle participant Samantha Buhler from The Hub.
Additionally we have added some (local) celebrity flare to the event by adding Chef/Councillor Rino Bortolin to our judges panel and local radio personality Dan MacDonald from 93.9 The River is back for another year as our Master of Cermonies. Both of whom were in attendance for our launch.
Battle of the Hors D'Oeuvres features food and drink from some of the best establishments and producers in Windsor-Essex.
The event offers the opportunity for food service establishments to compete for both the Critic's Choice and People's Choice award for best Hors D'Oeuvre. Additionally the event offers attendees the opportunity sample some of the best locally produced beverages our region has to offer.
Kieran McKenzie, Director of Development and Donor Relations talked about the uniqueness of this event: "Batlle of the Hors D'Oeuvres is a very special event in that it represents so many amazing partnerships and truly celebrates the very unique and thriving culinary scene in our region. We are very proud to have developed an event that not only helps to support the 7 child and  youth mentoring programs we deliver to roughly 800 young people in our community every year; but also an event that tells a wonderful story about our region and culture through food and beverage."
Big Brothers Big Sisters of Windsor Essex is also proud to announce the addition of Chef/Councillor Rino Bortolin to the panel of judges and the former lead organizer of Battle Hayley Morgan who will join returning judges Pina Ciotoli of Windsor Eats, Daneile Palanca of Ambassador Golf Club and John Kukucka of Essex Golf and Country Club.
Big Brothers Big Sisters is so grateful for the support and participation of an incredible array of people and organizations involved in the food and beverage community and beyond.
Battle of the Hors D'Oeuvres is a true community partnership that reaches beyond the culinary sector, the event is supported by a broad array of individuals and organizations in the business community, labour organizations, media, other not-for-profits and charities as well as well as the general public. It really is a fun way to invest in our collective future by supporting children and youth in our region." McKenzie added.