On Friday, September 17 members of our staff were joined by the public and some of our partners to raise the Big Brothers Big Sisters Windsor – Essex flag in Charles Clark Square to acknowledge Big Brothers Big Sisters Month.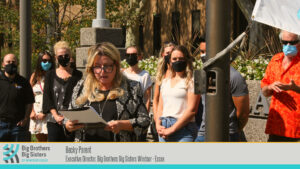 Becky Parent, our Executive Director, welcomed everyone and provided some background information about Big Brothers Big Sisters Windsor Essex and BBBS Month. Jasmine Taylor of our anti-Racism Task Force then conducted a land acknowledgement. Andy Sullivan, Chair of our Board, spoke about his experiences with BBBS. Alicia Higgison, Chair of the Greater Essex County District School Board reflected on the importance of Big Brothers Big Sisters. Lastly, Sandra Bortolin, Chair of the Programs Committee at BBBS brought a message from the Mayor of Windsor proclaiming September BBBS Month. Our flag was raised, then lowered to half mast in recognition of our nation's reckoning with the residential school program.
This September, Big Brothers Big Sisters agencies across Canada will be celebrating Big Brothers Big Sisters Month and all the ways that volunteer mentors support 41,000 youth in Canada. Big Brothers Big Sisters Month recognizes the critical importance of mentoring relationships, especially now, when our commitment to young people and the essential intervention service we provide is being challenged like never before.
The trauma from adverse childhood experiences can last a lifetime, and without early intervention, can define a lifetime. But we can help prevent the physical and mental effects that childhood trauma can lead to. At Big Brothers Big Sisters, we champion the health and well-being of youth by stepping in before it's too late, to give every child a chance to reach their full potential.