This September, Big Brothers Big Sisters agencies across Canada will be celebrating Big Brothers Big Sisters Month and all the ways that volunteer mentors support 41,000 youth in Canada. Big Brothers Big Sisters Month recognizes the critical importance of mentoring relationships, especially now, when our commitment to young people and the essential intervention service we provide is being challenged like never before.
Please join us on Friday, September 17 at Charles Clark Square, 12:30pm as we raise the Big Brothers Big Sisters Windsor – Essex flag to commemorate Big Brothers Big Sisters Month. If you're already a volunteer, or someone we're serving, or a partner in our work – or if you're interested in being part of the village that's needed to raise a child and would like to find out how you can be a part of it – come to celebrate what we're doing and learn about how we can do it better with your help.
(This is an outdoor event: Please wear a mask and observe social distancing protocols!)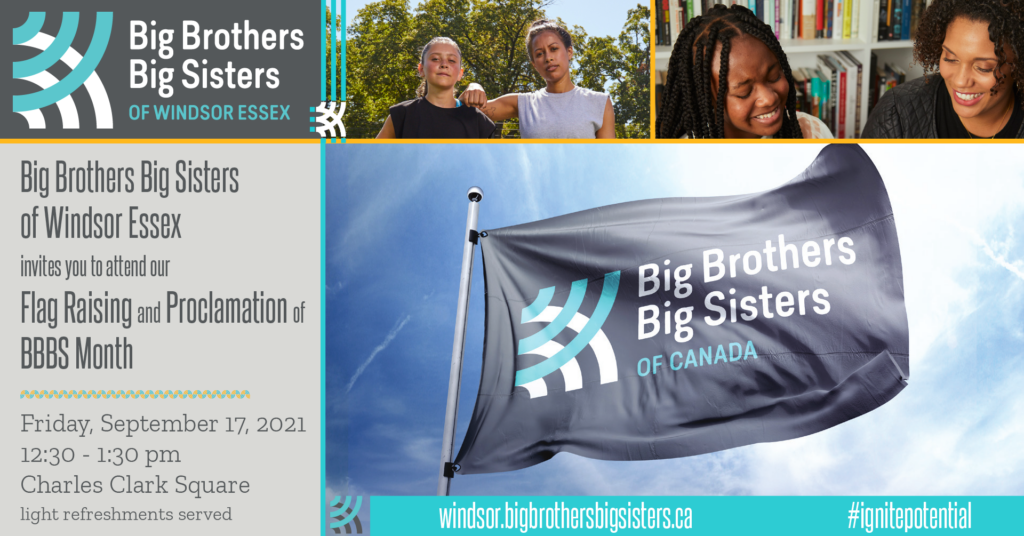 The trauma from adverse childhood experiences can last a lifetime, and without early intervention, can define a lifetime. But we can help prevent the physical and mental effects that childhood trauma can lead to. At Big Brothers Big Sisters, we champion the health and well-being of youth by stepping in before it's too late, to give every child a chance to reach their full potential.