"Digital Nearing" Strategies Being Developed to Help Serve the Children and Youth of Windsor Essex
WINDSOR-ESSEX – Despite the COVID-19 global pandemic Big Brothers Big Sisters of Windsor Essex (BBBSWE) is "Leaning In" to continue to serve the children and youth of our community. Physical Distancing protocols have introduced significant barriers for mentorship activities to continue as they have proceeded traditionally. The Agency continues to operate fully with staff working remotely, match support in on-going.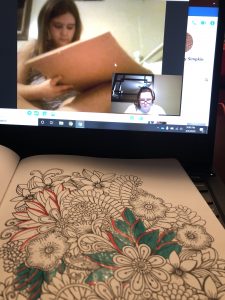 In response to the pandemic BBBSWE in conjunction with community partners is deploying a "Digital Nearing" strategy to ensure that through this stressful period the children and youth served by the Agency continue to receive crucial programs and supports.
"I'm really proud of how our entire team of board, staff and volunteers responded early and with great focus and determination" said Becky Parent, Executive Director of BBBSWE.  "Our mentors have utilized technology for online chats and phone calls, web-meeting software and even when all else has failed, the exchange of pictures and letters, our young people have been able to benefit from the support of their mentors when they've needed them the most.  This has not been without challenges but with all hands on deck, we've been able to respond to the daily challenges as they come."
The development and deployment of the BBBSWE Digital Nearing Strategy has the full support of our Boards of Directors. Adam Frye, Interim Chair of the BBBSWE Programs Board commented on the choice to 'Lean In' to our service commitment through the crisis of the pandemic: "As a Board overseeing our programs at Big Brothers Big Sisters of Windsor Essex we understand the critical nature of the services we provide. We know that a fundamental part of mentorship is role-modelling. The COVID-19 pandemic clearly presents many challenges particularly to our children and youth. By rising to meet them as presented through this crisis we are continuing to build resiliency in the young people we serve by 'leaning in' to our commitment to them and the community generally."
Kavaughn Boismier, Chair of the BBBSWE Foundation Board of Directors concurred: "The Big Brothers Big Sisters of Windsor Essex – Foundation Board of Directors, recognizes that the COVID-19 pandemic is impacting children and youth in deep and dramatic ways. Through this crisis along with our community partners, our priority is to continue doing our utmost to ensure that our Agency is providing the support that our families and community need."

Several community partners have stepped up to assist in the development and deployment of the BBBSWE Digital Nearing Strategy including both the WECDSB, GECDSB, Wave Direct, Parallel 42,RBC and others to reimagine how the mentorship relationship can continue in a safe but still meaningful way. BBBSWE is an Agency built on social interaction. Physical distancing will change how we deliver services but in fact heightens the need for mentorship to continue. One of the biggest challenges is sorting out the technological aspects of enabling mentorship activities to continue safely and effectively.
Wave Direct – Official Tech Sponsor for Big Brothers Big Sisters of Windsor Essex continues to support the work of the Agency as the COVID 19 pandemic affects our community. Ryan Davidson General Manager of Wave
Direct commented on the on-going support they are providing for BBBSWE: "Any time we hear that an organization in our community is helping kids to gain confidence and learn to reach further to see they have a healthy and brighter future, we want to see if there's a way we can help. One of our business partners at Kelcom, Joanne Morency sits on the board of Big Brothers Big Sister contacted us as tech company to see if we had any helpful ideas on how the organization could upgrade their current systems in order to better connect with the kids. Their biggest immediate need being upgraded laptops. We decided it was a good investment to supply them with 10 brand new laptops. From there we will continue to offer technical guidance and help as we can to this amazing group of leaders and mentors who are investing way more of their time and energy towards this cause than our small investment of some better tools for them to keep doing the incredible job they're doing."
Doug Sartori, Principal Consultant of Parallel 42 Systems as one of the community partners donating tech consultancy services talked about the decision to support the development of the BBBSWE Digital Nearing Strategy: "Recognizing the impactful nature of the services and supports provided by Big Brothers Big Sisters of Windsor Essex we are working to help build and maintain their mentors' vitally important connection to the youth they serve with digital tools. Parallel 42 is dedicated to helping organizations of all kinds use technology to build on their strengths this initiative aligns with our commitment to serve the community."
The challenge of the COVID-19 pandemic has only strengthened the resolve of the BBBSWE universe to support children and youth in Windor-Essex. We are "Leaning In".
PHYSICAL DISTANCING INTO DIGITAL NEARING
Digital Nearing, in the context of the services we provide at BBBSWE is the use of any tech based tool and/or application that can facilitate social interaction between a mentor and mentee. There are many platforms and devices that can help to facilitate on-going mentorship activities between our Bigs and Littles. What unifies them is their capacity to provide an on-going means for these positive relationships to continue to help to ignite potential in the children and youth we serve.
In these challenging times of social distance and self-isolation to avoid the spread of infection from the Novel Coronavirus (COVID 19), we know that relationships are key to growth and development, and we continue to encourage the bonds of social interaction, albeit in a new and digital way. We have been listening to Agency staff share their successes of using technological platforms in amazingly innovative ways! We want to help continue this engagement of matches by providing weekly ideas for conversations and activities that help build developmental relationship with young people. These discussions can take place using any technological tool!
One of our mentors recently updated our BBBSWE County Community Based Mentoring Coordinator Dhai Omar with an email along with some photos of her and her mentee interacting online:
Hello Dhai! 
Just sending you the pictures of my last video call with Carissa, we coloured together, we made her a playlist on my Spotify for when we eventually get to see each other again and go on a drive. She also showed me the bearded dragon, Barney!! Overall I think the virtual outings are going well! 
Thank you,
Elora