RBC FUNDED PROGRAM DELIVERS MAJOR IMPACT
Through the generous contribution and support of RBC we have been able to bring the Teen Mentoring program back to our community and impact children/youth and teens through a special type of mentoring.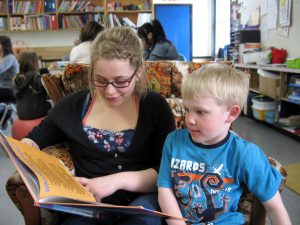 Teen Mentoring provides an elementary school student with a unique one to one relationship with a Teen Mentor.  A Teen Mentor is a high school student selected by school personnel to participate based on their ability to be a positive role model.  The program consists of a supervised weekly one hour visit between a Teen Mentor and Mentee with the focus on building a friendship.
Research has shown that teens can be powerful and effective mentors to younger children with an equally powerful impact for the teens.
The Teen Mentoring Program helps elementary school students develop the confidence, self-esteem and skills they need to be successful in school and in life. Research supports that school-based mentoring ignites potential for children and youth. The findings show increased high school completion rates; improved attitudes about staying in school, enhanced academic motivation and achievement; improved social skills and behavior, reduced risk of involvement with drugs.  Mentoring supports strength-based practices that build resiliency.
The Teen Mentoring Program helps high school students improve self-esteem, social responsibility, problem solving strategies, leadership and communication skills. In many situations, teens also develop cultural sensitivity.  Participation in this program allows for the completion of volunteer hours for scholarships, post-secondary education and career planning information and resources and resume building. Teens are empowered through their involvement in the community with recognition to themselves and others that teens can make a difference.
We are happy to announce that we have been able to serve approximately 60 children/youth and teens in the Teen Mentoring Program in the 2019-2020 school year.
We value our partnership with Cardinal Carter Elementary/Secondary Schools in Leamington, Herman Elementary/Secondary Schools and Corpus Christi Middle School/FJ Brennan Secondary School in Windsor who have collaborated with us to enable this success!