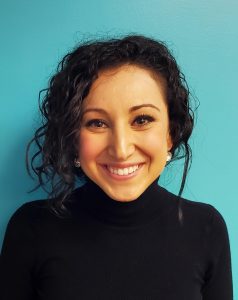 Big Brothers Big Sisters of Windsor Essex (BBBSWE) is proud to welcome Salina Ciccone to our staff. Salina takes on the role of Community Based Mentoring Coordinator. Raised virtually her entire life in the Windsor-Essex region she brings a true passion for mission of our Agency to serve the children of our region.
In her role, her function is to ensure that the growth and well-being of children/youth are enhanced and sustained through the services offered by BBBSWE. To that end she is responsible for engaging volunteers and children/youth through the matching process and ensuring the health of a match through support and match supervision. In the role she is also responsible to address the clinical and psychosocial needs of children and their families on their caseload and offer brief support counselling, crisis intervention and referral services to appropriate community providers.
Having recently completed a Master's of Social Work degree at Wayne State University in Cognitive Behavioral Therapy Salina considers the opportunity of joining BBBSWE as having landed a "dream job". She has a passion for working with young people and believes her career path will always involve working with children and youth.
Salina talked about why BBBSWE is an ideal fit for her as she launches her career: "I have chosen to further my professional development with BBBSWE because they have played a large role in my life the last 6 years. From the moment I knew I wanted to be a social worker, I recognized I needed to part of something larger than myself. I needed to be part of an organization that ignited potential in the lives of children, youth and families today."
She went on to talk further about her connection to the Agency over several year, prior to joining the Agency as a member of the full-time staff: "BBBSWE have provided me with countless opportunities to grow as a social worker in my personal life and professional practice, beginning as an In-School Mentor. The Agency as a whole has helped me achieve my dream and challenged my abilities to push forward and strive to be the best advocate, mentor, friend and social worker I can be. Everyone has a flame, given the opportunity to ignite it, the world becomes a much larger place and that is what Big Brothers Big Sisters of Windsor Essex has done for me."
Once again we are thrilled to welcome Salina to the full-time staff and look forward to witnessing her harness the passion she's expressed for the betterment of the children and youth we serve at BBBSWE and for the community generally.