THIS EVENT HAS UNFORTUNATELY BEEN CANCELLED
Award Winning Canadian Artist Tara Shannon to Perform Charity Fundraiser for Big Brothers Big Sisters of Windsor Essex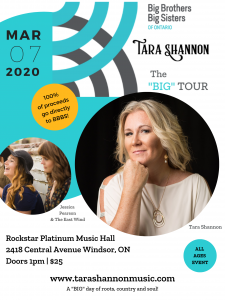 Award winning Canadian recording artist Tara Shannon is touring Canada in an effort to raise money and awareness for Big Brothers Big Sisters Agencies. In total Tara will be hitting 11 cities on THE BIG TOUR.
She will be in Windsor on March 7th, performing at the Rock Star Platinum Music Hall located at 2418 Central Ave. in Windsor.
Tara talked about her inspiration for THE BIG TOUR: "I got to know Big Brothers Big Sisters when I came on board as the Ambassador for the Morguard Be You Girl Campaign. I loved everything about their programs and mission statement from the onset and couldn't believe they had been around for over 100 years which says so much." She went on to add: "Mentoring is a core function of the work I do as a business consultant, label owner and mother of seven so it's a natural fit for me and the power of mentoring cannot be overstated – it is truly life changing."
Tara will be joined on tour with one of her very own artists that she has had an impressive hand in mentoring, Jessica Pearson and the Eastwind.
ABOUT TARA SHANNON
Tara Shannon is a Canadian award-winning singer-songwriter from Russell, ON. Shannon's current single 'Mutha' made the Top 5 Downloads and Streams across US radio first week out where it is currently charting and also debuted at #2 Indie Downloads across Canada.
Her new album 'Where the Light Comes In' was released in November 2019 with a performance at the National Arts Centre in Ottawa and was recently nominated for Album of the Year by Faces Magazine Ottawa.
As the co-founder of the TIF Group of Companies, which includes Willow Sound Records, she has shared her training and experience in leadership management and entrepreneurship hosting numerous workshops as well as attending speaking engagements at events across Canada including
the G20 Summit.
As the mother of seven, she is passionate about youth and developing their potential which is why supporting Big Brothers Big Sisters with this endeavour is a natural fit.
Alongside her natural talent and dedication to her musical craft, Shannon is also well known for supporting and giving a voice towards local and national charitable campaigns.
For both her musical and charitable endeavours, Shannon has been featured in media across North America including Etalk, Global's The Morning Show, CBC's All in Day, CP24 Breakfast, Sirius XM's Ward and Al, and many more. Shannon also had the opportunity to host American hit TV show Country Fix in 2017, a CJM Production that airs in more than 100 million households worldwide on networks including Heartland, The Family Channel, and more.
ABOUT JESSICA PEARSON AND THE EASTWIND
Jessica Pearson is a Canadian born storyteller with a voice like melting honey on a summers eve. Accompanied by Kristan Couture on the mandolin and Maddy O'Regan on the fiddle, they bring to life tales of the past and express the beauty and heartbreak of the world today.
In 2017 they released their debut EP 'Grave and Garden Songs' to a sold out crowd at LIVE! On Elgin. Playing over 80 shows a year in Canada, Ireland and the United Kingdom, they have been writing songs and collecting stories from all over the world.
Jessica Pearson and the East Wind have recently signed to Willow Sound Records and Syndicut Music Publishing with Jessica's first cut on Joe Diffie's single 'As Long As There's A Bar'. They are currently working on their first full length album to be released in 2020.
Their music blends folk, roots and East Coast bluegrass to create a unique sound of their own. From a cappella tunes sung in the middle of the audience to recollections of growing up in Canada, Jessica Pearson and the East Wind will take you on a journey with their dynamic live shows and entertaining story telling.